O's and Nats: Mid-Atlantic Surprises, 2012 Versus Now
In 2012, two of the most pleasantly surprising teams in MLB were Baltimore (which improved from 69 to 93 wins) and Washington (80 wins to 98). Given their geographic proximity–they share airtime on the Mid-Atlantic Sports Network (MASN)–the differing expectations that each carried into the 2013 season, and the divergent paths they have taken in the first half of the season, the Orioles and Nationals form a natural pair of teams to compare and contrast.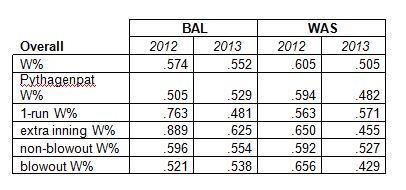 To the surprise of many observers, Baltimore has thus far been able to better duplicate its 2012 performance. In 2012, the Orioles barely outscored their opponents, with an estimated W% of just .505 based on their runs scored and allowed as estimated by the Pythagenpat approach. Baltimore also boasted historically good performances in one-run (29-9) and extra-inning (16-2) games. While there is significant overlap between those two splits and one-run records can be misleading due to the capping of final margin of victory for the home team, Baltimore's split between blowout and non-blowout games (defined as those in which the margin of victory is five or more runs) also fueled the notion that fortune shone on Camden Yards.
Washington, on the other hand, had both a RS/RA profile and record in close games that suggested a team whose underlying performance more closely matched their sterling win-loss record. As is the case for most good teams, the Nationals had a worse record in one-run and non-blowout games than in blowouts.
Given these facts, the preseason consensus opinion that Washington was a favorite for the NL pennant and that Baltimore would have a tough road in a strong division seemed reasonable. However, it's the Orioles who sit in playoff position at the All-Star Break, while the Nationals have languished around the .500 mark after a hot start.
Both teams have exceeded their Pythagenpat expectations so far, with the Nationals surrendering more runs than they have scored. Baltimore's one-run magic has not persisted and the Orioles still have a better record in close games than in blowouts, but on the whole, their win/loss splits have been more consistent with those typical of contenders than in 2012. Washington has gone the other way, with a very poor record in blowout games.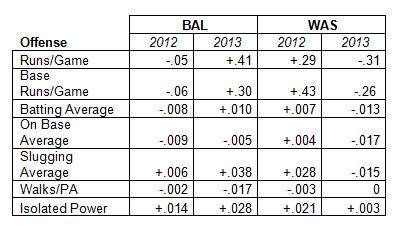 Offensively, Baltimore has made great strides while Washington has suffered a large decline in productivity (the values in the table above are differences relative to league average; Base Runs is a run estimator in the vein of Runs Created, but superiorly constructed). The Orioles are third in the AL in R/G and lead in Slugging Average and Isolated Power; the only thing Baltimore has done poorly at the plate this year is draw walks. The offensive gains have been spearheaded by Chris Davis and Manny Machado, who have each turned corner positions that were below average for the team as a whole in 2012 into strengths. Baltimore still has two glaring weak spots on offense in second base and DH (for the latter, they have gotten league worst production with an aggregate .197/.281/.382 line), but both Matt Wieters and Nick Markakis have performed below their career norms, offering hope for an offset to the poor positions (and for potential regression from Davis and Machado).
In 2013, the Nationals have declined in every significant offensive category with the exception of walk rate. The Nationals have drawn walks and hit for power at league average, but their poor batting average has held their attack back. Washington's biggest offensive disappointment may be Danny Espinosa, who was demoted after hitting just .158/.193/.272 in 167 PA, but offseason trade prize Denard Span has disappointed as well (.260/.317/.355). Top prospect Anthony Rendon has hit well in Espinosa's stead, which along with a healthy Bryce Harper should provide some hope for second half improvement.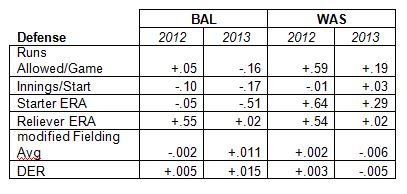 In the above table, a positive indicates better than league average performance, even if the particular metric (like ERA) is one in which a lower figure is better. Modified Fielding Average is (PO –K)/(PO – K +E), and DER is Bill James' Defensive Efficiency Record, an estimate of the percentage of balls in play that are converted into outs.
Baltimore has taken a step back in all pitching categories, but most notably the performance of their rotation, which has gone from below average to very poor. The bullpen has also failed to match their 2012 performance, with Jim Johnson regressing and Pedro Strop falling apart and being dealt as part of the Scott Feldman trade. Feldman should help the rotation and Tommy Hunter has emerged as a solid replacement for Strop to pair with Darren O'Day in the set-up role. The Orioles have ticked upward in both fielding categories and are currently third in the AL in DER.
Washington's pitching has been good in 2013, but not brilliant as in 2012. The workload for their starters relative to the league has held steady, and while some performance regression was inevitable, the biggest difference has been rotation depth as Ross Detwiler and Dan Haren have struggled as the #4 and 5 starters, while the 2012 rotation went five-deep with league average or better performers. The relief corps has been only league average, but has not lacked for pleasant surprises as lefties Fernando Abad and Ian Krol have performed well to date. The Nationals have also declined in each of the two crude fielding metrics.
Entering the second half, both teams figure to provide MASN with compelling programming as the Orioles are squarely in the wildcard race and the Nationals are close enough to the Braves to launch a challenge. While the consensus at the moment may be that Baltimore is a stronger team, Washington may have easier fixes on hand to address their offensive woes than Baltimore does for its starting pitching. Despite having dug a deeper hole for themselves, the Nationals also benefit from a more open playoff picture in the NL, while the Orioles face stiff competition in both their division and wildcard races.
(Photo by Keith Allison)